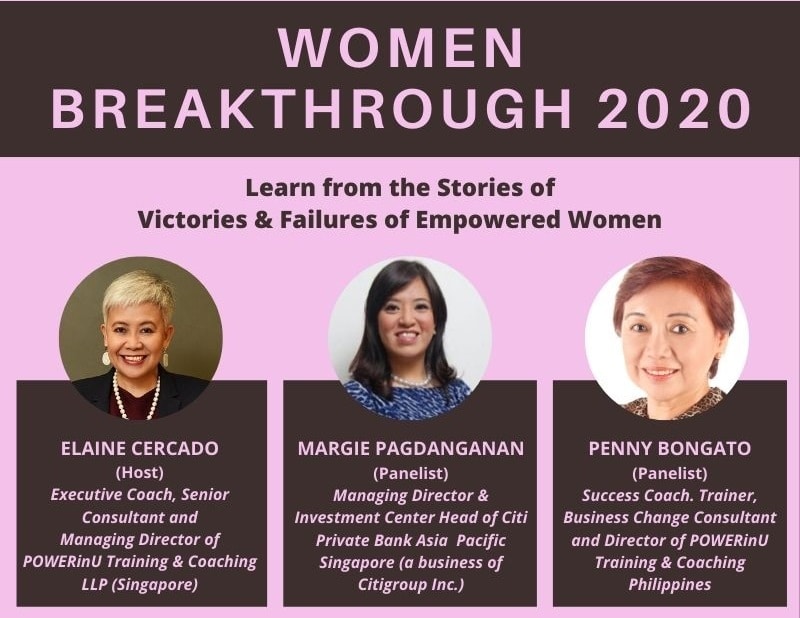 Women Breakthrough 2020 (FREE WEBINAR)
In celebration of the International Women's Day this March, POWERinU offers this FREE WEBINAR for us tolearn from the stories of Victories and Failures of Empowered Women!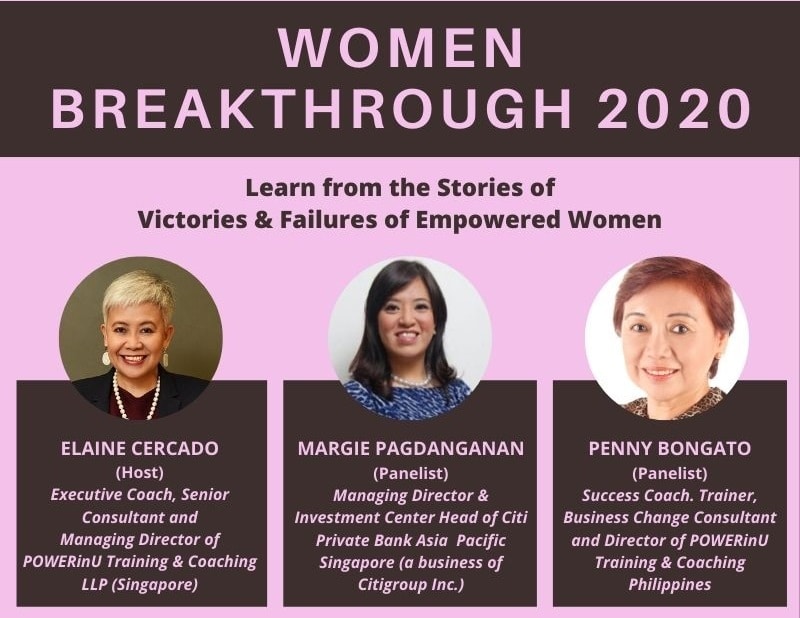 WOMEN BREAKTHROUGH 2020
Learn from the stories of Victories and Failures of Empowered Women
Be mentored by them on how to breakthrough in:
Finding your Talent Platform
Balancing Family and Work
Communicating Assertively & Building Confidence
Showing Courage / Boldness in Decision Making and Taking Risks
Sustaining the Passion & Energy through the Years
GET TO KNOW THE HOST AND PANELISTS
Host:
Discover, Develop, Maximize and Share the Power Within! ~ This is Elaine's mission and passion for every person, team and company.
Elaine has worked for 30 years with diverse teams from SMEs and MNCs, in emerging and mature industries in Asia-Pacific markets. Throughout her corporate and consulting stints, she specialized in sales, business development, general management, regional operations, learning and organizational development, management/leadership training and executive coaching.
Elaine has been recognized for achieving business and people-oriented results consistently. She's highly experienced in leading and operationalizing organizational transformations. She has delivered complex projects; developed challenging businesses and multi-cultural teams in Asia; motivated, empowered and led diverse teams to meet goals.
Elaine's certification include Advanced Certification in Training and Assessment (ACTA) by Singapore WDA/IAL, certified Practicing Management Consultant (PMC) of the Singapore Business Advisors and Consultants Council, and as sales, management and leadership trainer and facilitator for global training partners like CEGOS. Elaine is a CEG (Core Essentials Graduate) and a Coaching Clinic Licensed Facilitator awarded by Corporate Coach U (ICF-accredited), and is a practicing Executive and Corporate Coach.
As trainer/facilitator, consultant and coach, Elaine has worked with and served progressive SMEs, global and local non-profit organizations, and regional & global multinational corporations in varied industries including financial services, manufacturing, supply chain, IT, BPO, among others. Elaine has also served in senior L&D roles in NCS pte Ltd (8k workforce) and IDC Asia Pacific (100+ in regional HQ). In both roles, Elaine focused on strategic planning, as well as, implementing organizational and leadership transformation initiatives.
Panelists:
Margie Pagdanganan has responsibility for the Citi Private Bank Asia Pacific Singapore booking center as the Singapore Investment Center Head. In this role, she provides assistance in executing business strategies, driving new initiatives and improving business processes for the Citi Private Bank in Singapore and works in partnership with the relevant groups within the Private Bank to meet regulatory requirements, enhance client experience, increase productivity and enhance controls.
Prior to her current role, she was the Chief Auditor for ASEAN and Singapore and had assurance responsibility for the various businesses and functional activities in Singapore and oversight for the Heads of Audits in the ASEAN countries. The ASEAN region for Citi comprises 10 countries. In addition to her ASEAN role, she was acting as the interim Co-Head for Internal Audit in Asia Pacific. She previously managed audit coverage for the Private Bank, Global Functions and Technology across Asia Pacific for a period of time. She was the Co-Chief Auditor for Citi Asia Pacific responsible for South Asia for 6 months in 2011 and provided audit leadership for Japan for almost 7 months in 2010.
Margie is an audit professional with approximately 25 years' experience. Prior to Citibank, Margie worked with the top external audit firm in the Philippines, SGV & Co (previously Arthur Andersen and now an Ernst & Young affiliate), as a financial and systems auditor handling banking, manufacturing and mining companies. She has been with Citigroup for 25 years and audited various businesses including Consumer, Cash, Trade, Treasury, Fiduciary, Securities, Insurance, Finance, Technology and Infrastructure Units. She was also the Collections Product Head in charge of both retail and business collection products in Global Transaction Services (GTS) Citi Philippines.
Margie has been conferred the Institute of Banking & Finance (IBF) 2019 Fellow Award in Wealth Management, which recognizes industry veterans who have demonstrated mastery of a profession and exemplify thought leadership and commitment to industry development. She is also a Private Bank Industry Group member and represents Citi in the various industry initiatives. She is a Women Leading Citi (WLC) alumni and is an active member and leader in the Women's Affinity group in Singapore and passionate mentor for several women leaders. She sits on the board of Cititrust Singapore Ltd.
Margie graduated from Saint Louis University Baguio, Philippines with a degree in Accounting (Magna Cum Laude). She completed the Wealth Management Institute Master Class in Wealth Management (IBF Level 2/3) in 2015. She is a Certified Public Accountant (CPA-Philippines), Certified Information Systems Auditor (CISA), Certified Fraud Examiner (CFE) and Certified Anti-Money Laundering Specialist (CAMS). She is married and has 3 children.
Better known as Penny to friends and associates, she has been listed as one of the Top 100 Filipinos to Follow in Linked-In for Inspiration and Learning 2019. Penny is also the First Jack Canfield Certified Trainer in the Success Principles in the Philippines and First in Asia, and is also now Certified Trainer in the Canfield Methodology.
As a Canfield Certified Trainer in the Success Principles, she has completed the Canfield intensive professional training program on how to experientially teach the principles of success and how to facilitate individual and group transformation workshops. Having worked with Jack Canfield himself at his live training and events, Penny has honed her skills by continuously teaching and modelling the Success Principles in her daily life. In fact, Penny has launched two books already, "Career Shift: Follow your Passion" last August 2017 with Foreword by Jack Canfield, and "Ask For A Bigger Blanket" last November 2019.
With close to 20 years of experience in the field of Human Resource and various MNCs in the Philippines, she was at the forefront of the boom off the Business Process Outsourcing (BPO) industry in the Philippines acting as Director of Human Resources for companies including Dell, Convergys, Logica and Teletech, and as Regional Director for the Asia Pacific Region of Headstrong.
Penny has extensive experience in Information Technology, Business Process Outsourcing, Consumer Goods Services, Insurance and Business Process Management. She was an Executive Director of IBPAP (IT & Business Process Association of the Philippines), a 2016 Board of Trustee of the People Management Association of the Philippines (PMAP) and she was the PRO of the Career Development Association of the Philippines (CDAP) in 2014.
Penny is often invited to represent the Philippines as a guest speaker for various industries and academic institutions, both within the Philippines and overseas such as in Singapore, India, Indonesia, South Africa and Colombia. She has very strong client relationship and a strong communicator at all levels.
Penny went into training and coaching because she likes to help others grow and reach their highest potentials. Through training and coaching, she has helped clients determine what they truly need and want, and work towards achieving their goals.
Penny has undergone the Accelerated Coach Training Program of Benchmark Consulting and at present, Penny is working with coachees who have been impacted due to the reorganization of their company. She also coaches senior leadership team members which results in better relationship with both team members and family.