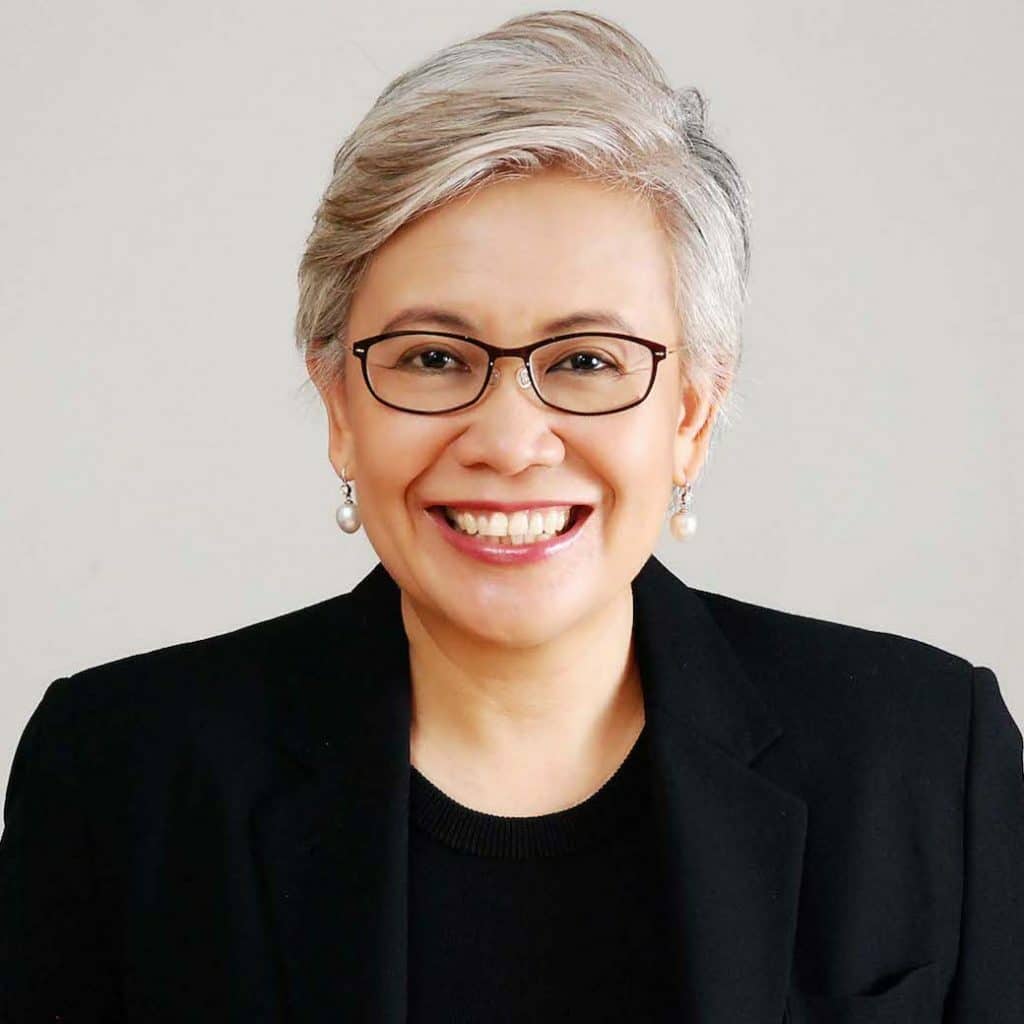 Managing Director , Senior Consultant, Program Designer, Leadership Trainer-Facilitator, Executive Coach
DOWNLOAD PROFILE OF ELAINE CERCADO
Elaine has 30 years of professional history, which includes working with diverse teams, from the fast growing small & medium-sized businesses to complex multi-national corporations, in varied emerging and mature industries in Asia-Pacific markets, such as IT, financial, government, industrial, document management, entertainment & healthcare. Throughout her corporate stints, she specialized in sales, business development, general management, people management, regional operations, customer service, learning & organizational development.
In 2008, Elaine embarked on a second career in management development training, consulting, mentoring and coaching, and built POWERinU Training & Coaching LLP (formerly, de'POWERinU Management Consultants LLP) in Singapore, where she resides with her family. She focused on areas such as leadership & management, change management, organizational development, learning & development, people & performance management, B2B sales/customer service excellence, personal empowerment/personal effectiveness, strategic HR & operational excellence, business & market development.
Elaine holds a BS degree in Applied Economics, a Master in Business Administration, Advanced Certification in Training and Assessment (ACTA) by Singapore WDA/IAL, and is certified Practicing Management Consultant (PMC) of the Singapore Business Advisors and Consultants Council.
She is a certified trainer of Global Learning by CEGOS (GLC) for Managerial Intelligence Levels 1 & 2, GLC Creating and Delivering Powerful Presentations, GLO Managing Business Change, GLO Leading My Business, and GLO Stakeholder Management. Elaine is certified IMPAX trainer for Strategic / Consultative Selling & Superior Account Management, and certified MLB Switzerland trainer for various Management / Leadership programs. Elaine also co-designed and developed POWERinU's TCOB training and consulting programs for fast-growing SMEs, and the EMPOWER programs for personal effectiveness.
Last June 2016, Elaine has completed certification program under Corporate Coach U and is now a Coaching Clinic Licensed Facilitator. In addition, Elaine Cercado has certified in CoachU's coaching course and has earned the CEG (Core Essentials Graduate) designation.
In 2015, Elaine served as regional sales learning and enablement manager for IDC Asia/Pacific, where she led the development and deployment of learning strategies and activities throughout the Asia-Pacific Sales organization, in close collaboration with the senior business and sales leaders.
In 2017, Elaine became a regional leadership program facilitator and trainer for the US-based Training Resources Group, Inc (TRG), where she was assigned to train TRG's key client, The World Bank. Elaine co-facilitated 3 programs including Personal Leadership Skills, Strengthening Leadership Skills and Supervisory Program, at various times in Vietnam, Croatia, Thailand and India.
"The POWER in U~Discover. Develop. Maximize. Share." Elaine is passionate and committed to fulfill this mission!
Testimonials
"Ms. Elaine Cercado was an excellent facilitator and resource person. She went above and beyond what she was supposed to provide. The topics were presented and explained clearly and very objectively. The situations and examples are tailored to address the company's issues and concerns which is greatly appreciated as the team can already see how it can be used and applied in their work. The post-workshop deliverables were also on point as she provided not just what transpired during the workshop but also provided recommendations for the Phase 2 of this project. She also shared tools and techniques to ensure follow-through. The goal of the project is to transform the Sales organization of ETPI from a traditional to a strategic solution and consultative selling-focused organization; and because of her, the company is on its way to achieve it."
~ Mary Ronan Adalaide Solomon, Learning and Engagement Manager, Eastern Communications | A Client in Sales Transformation Project
---
"Ms. Elaine Cercado played a pivotal role in helping the undersigned create a strong, sustainable strategic plans for our overall transformational culture. Elaine also crafted a game changing process that allowed the diverse team to move from a silo-centric, geographic focus team to a truly networked organization. She also showed agility, adaptability and practicality during the entire sessions. She immediately made mid-course corrections when she saw that there were more effective ways to address the needs of the team."
~ Thelma P. Meneses, Chief Culture Officer of Bottling Investments Group, The Coca-Cola Company | A Client in Consulting Services
---
"Ms. Elaine Cercado delivered successfully all the program with a great professionalism. We got an amazing satisfaction level among participants. She also provided continuous feedback and a very detailed analysis of the program. Ms. Elaine Cercado showed flexibility and strong organizational skills during the program. Her enthusiasm and facilitation skills allowed this project to be a great success."
~ Emilie Marle, Key Account Business Partner
Cegos Asia Pacific | A Partner in Training and Consulting Services for Merck Business Services
---
"The SEA/China/Japan & India Teams gave very positive rating & feedback to the 4-day program. Elaine adapted very well this international training to local needs by keeping the important corporate points & key messages. She invested a lot of energy for excellent preparation."
~ Thilo Eckardt, Managing Partner of MyLearningBoutique – Switzerland (Training Partner for Switzerland-Based Logistics MNC for Management Development Program)
---
"I personally benefited from getting new insight on why I do things, being challenged on the decisions about to taken and gaining support and motivation to do things when I feel discouraged. The process itself involved a lot of provocative questioning techniques that helped to think and rethink that way I do things and think about what I want to do."
– VJ Posadas, Business Development Director – DDI at the time of coaching (Elaine's Client in Executive Coaching)
---
"Elaine had done a good job in developing and executing the training program. An in-depth stakeholder interview was done prior to training design. This allowed the course to be tailored to expectations and delivery made more relevant. Elaine also showed a high degree of empathy and sensitivity with the audience allowing her to adjust pace and content to optimize learning."
– Head of Marketing, SuperCharge Batteries Pty Ltd – Sydney (Elaine's client in TCOB Sales Training Program)
---
---