This course provides an essential component in preparing organizations and their leaders to thrive in a VUCA world. It also provides tools and resources needed to develop change-savvy managers and employees who can ensure success for their organizations, satisfaction for their direct reports, and job fulfilment for themselves.
You can register PER MODULE or PER SESSION
This program has 4 sessions. While you are encouraged to attend all 4 sessions, each session stands well on its own.
SESSION 1
Opening. Introductions
The Manager's Change Model

Phase 1: Assess the Situation

Personal Action Planning
SESSION 2
Phase 2: Accept Leadership Accountability

Personal Action Planning
SESSION 3
Phase 3: Attain Implementation Progress

Personal Action Planning
SESSION 4
Phase 4: Advance to Future Initiatives

Practical Application / Case Study
Wrap-up. Closing
---
Phase 1


ASSESS THE SITUATION

* Enhance change fundamentals are in place
* Determine organizational / department readiness
* Establish a sense of urgency
Phase 2


ACCEPT LEADERSHIP ACCOUNTABILITY

* Optimize communication with social media
* Manage relationships in all areas
* Act as a role model for change
Phase 3


ATTAIN

IMPLEMENTATION PROGRESS

* Involve and engage others
* Generate gains and improvement
* Foster change-ready employees
Phase 4


ADVANCE TO FUTURE INITIATIVES

* Institutionalize changes
* Evaluate the results
* Build capacity for continuous change
---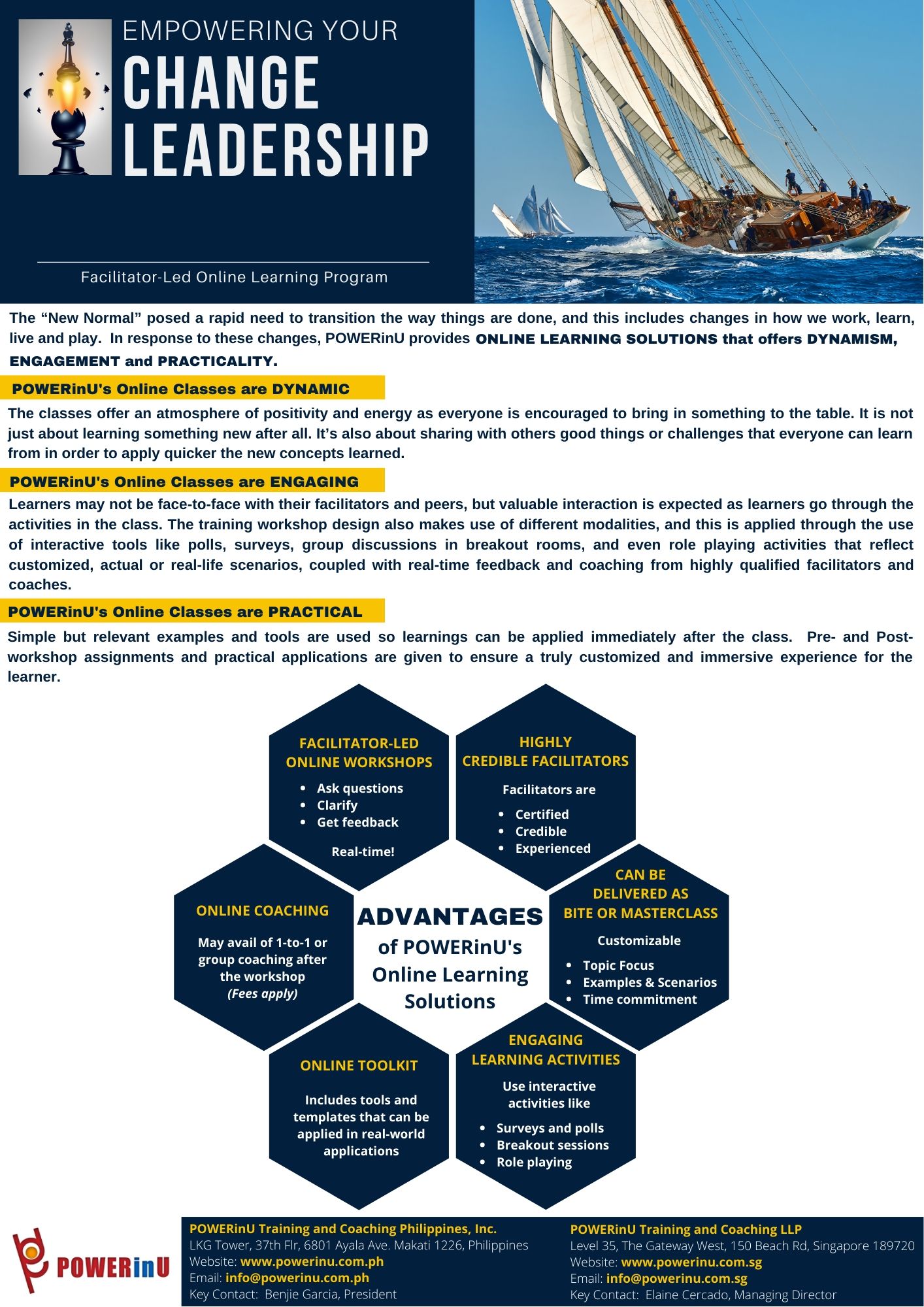 ---
Explore, discuss, experience our Solutions! Send us a message to inquire or email [email protected] for queries.