This course teaches coaches the essential skills needed to conduct coaching conversations that help performers grow. The focus is on helping performers based on what they most need. It's a service-oriented approach that emphasizes deep listening and encourages the performer to own and pull the coaching conversation forward.
You can register PER MODULE or PER SESSION
SESSION 1
Opening: Introductions
Module 1: What is Coaching?
Module 2: The Coaching Model
Personal Action Planning
SESSION 2
Review of Session 1
Module 3: Roles – The Coach and the Performer
Module 4: Coachability Skills
Personal Action Planning
SESSION 3
Review of Session 2
Module 5: Roles – Starting the Coaching Conversation
Module 6: Conversation Skills
Personal Action Planning
SESSION 4
Review of Session 3
Module 7: Perspective Skills
Module 8: Progress Skills
Personal Action Planning
---
Module 1


WHAT IS COACHING?

* What Coaching is and what it is not
* Coaching Skills Diagnostic
Module 2


THE COACHING MODEL

* The Coaching Model
Module 3


ROLES – THE COACH AND THE PERFORMER

* The Coach's Role
* The Performer's Role
Module 4


COACHABILITY SKILLS

* Defining and Enhancing Coachability
* Who's Responsible for Coachability
* Uncoachability Triggers
Module 5


STARTING THE COACHING CONVERSATION

* Ways to Start Coaching Conversations
* Sample Openers
Module 6


CONVERSATION SKILLS

* Conversation Skills that Create Pull
* Ask Better Questions
* First Coaching Practice Session
Module 7


PERSPECTIVE SKILLS

* Perspective Skills Defined
* Why Performers Lack Perspective
* How Coaches Can Help Using Critical Thinking
Module 8


PROGRESS SKILLS

* Big Power in Small Actions
* Facilitating Progress with an Action Plan
* Questions to Facilitate Progress
* Great Coaches Seek Coaching
* Final Coaching Session
---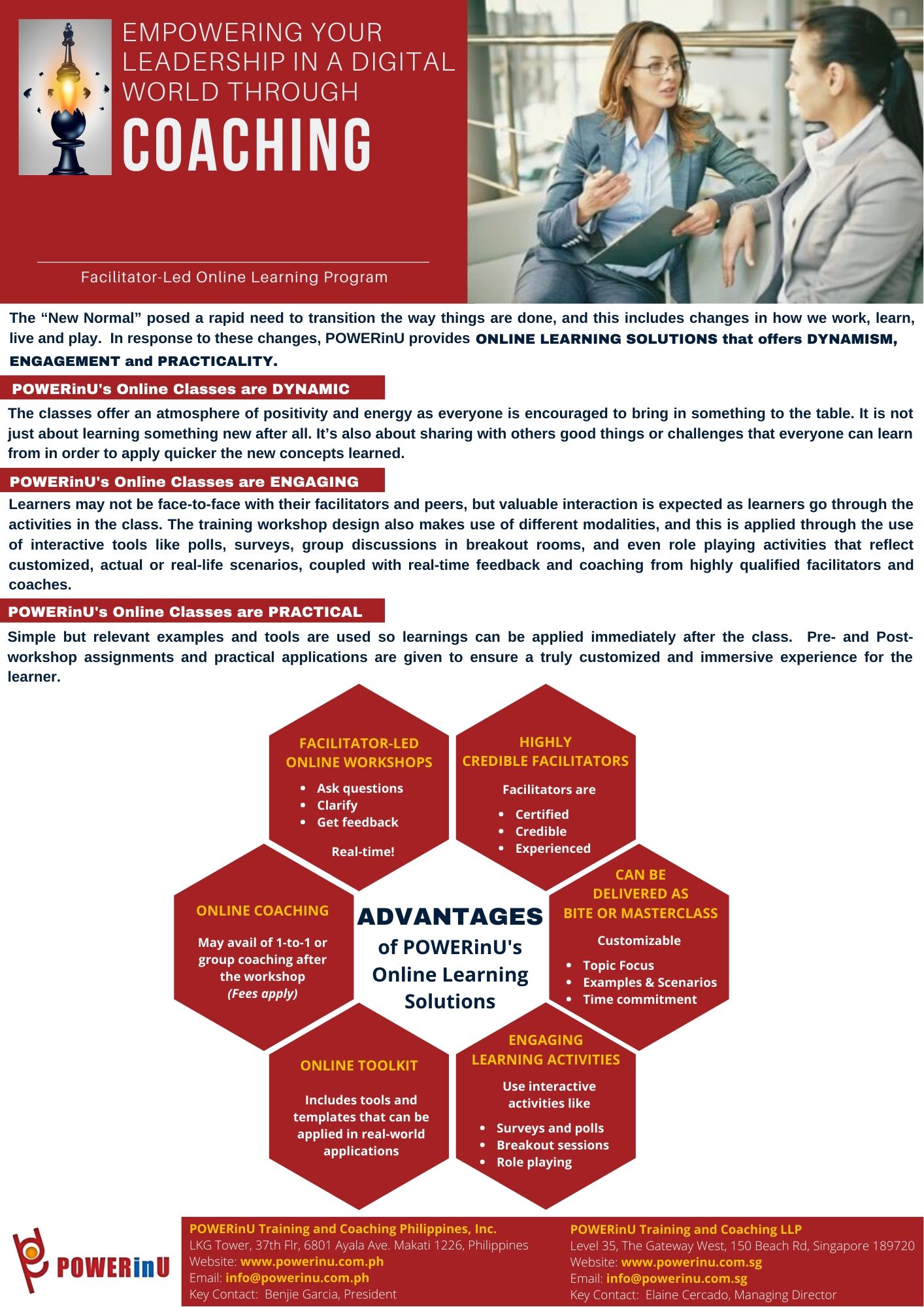 ---
Explore, discuss, experience our Solutions! Send us a message to inquire or email [email protected] for queries.