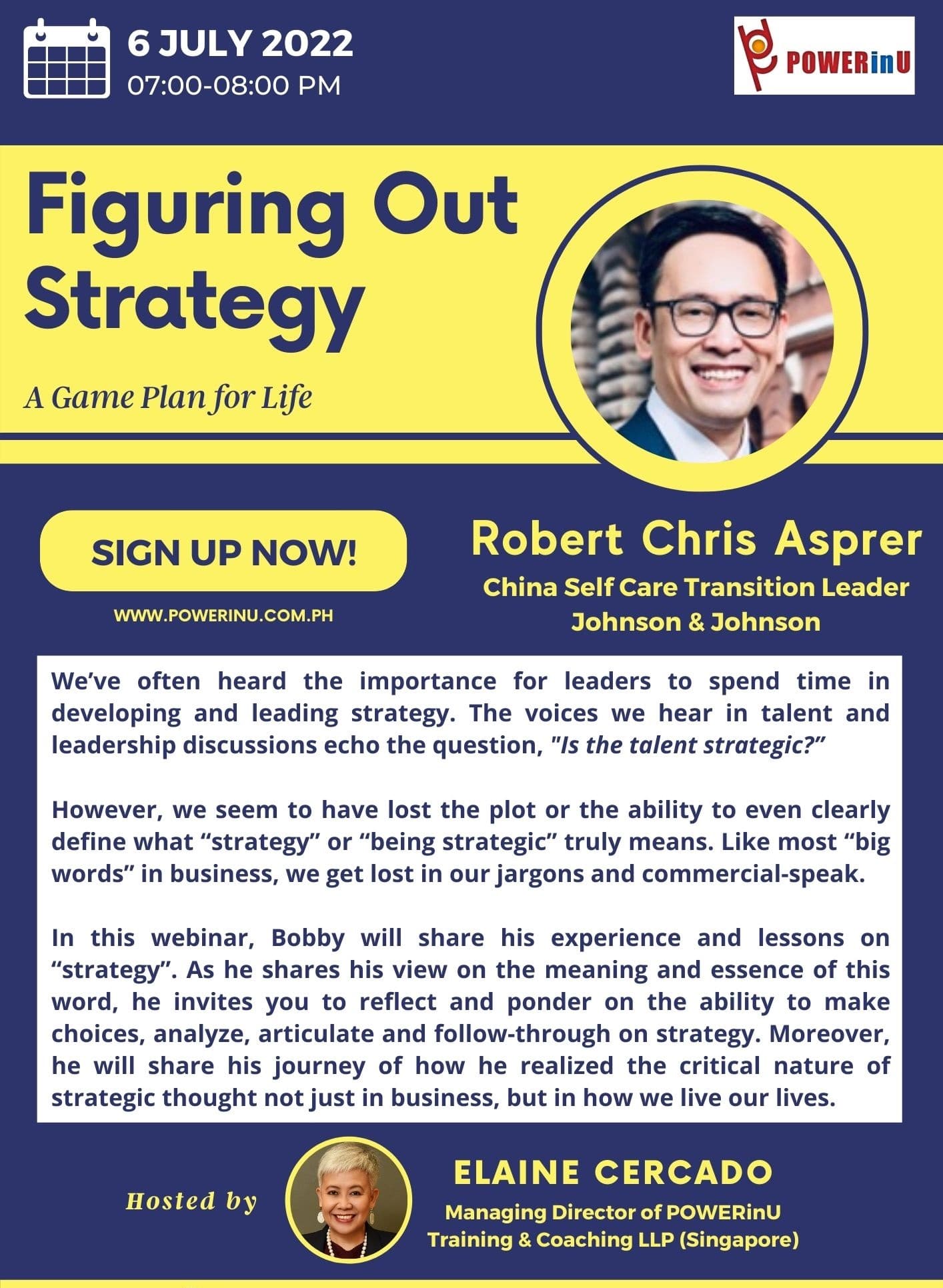 FIGURING OUT STRATEGY: A Game Plan for Life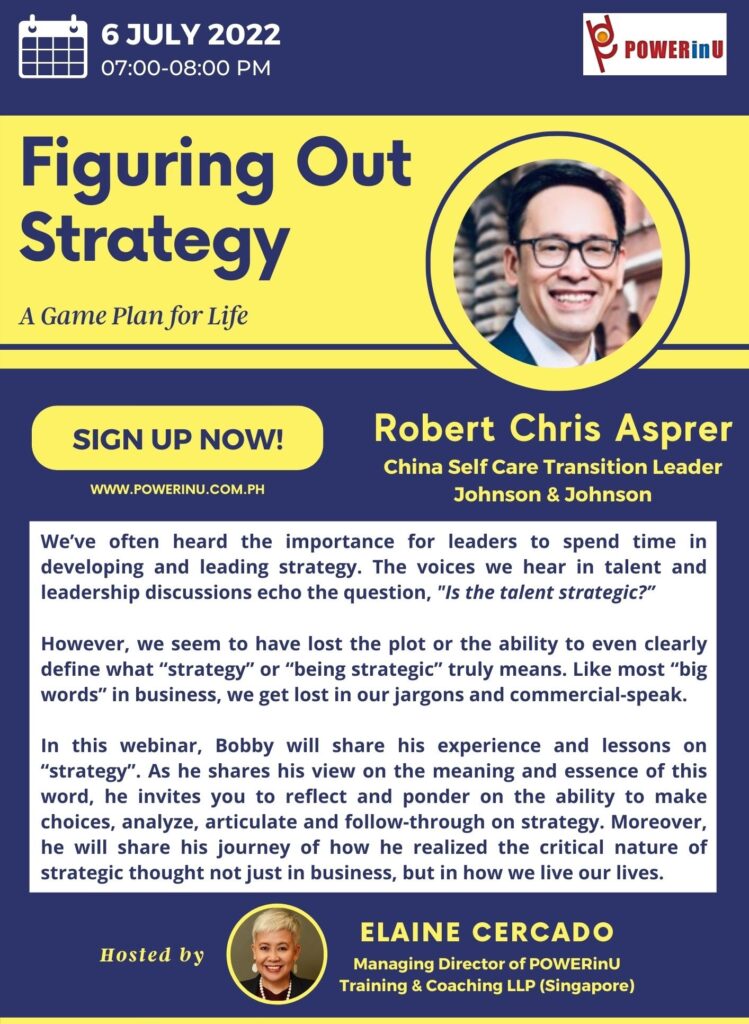 FIGURING OUT STRATEGY: A Game Plan for Life
July 6, 2022
7:00 – 8:00 pm (PH/SG Time)
This is a FREE WEBINAR.
We've often heard the importance for leaders to spend time in developing and leading strategy. The voices we hear in talent and leadership discussions echo the question, "Is the talent strategic?"
However, we seem to have lost the plot or the ability to even clearly define what "strategy" or "being strategic" truly means. Like most "big words" in business, we get lost in our jargons and commercial-speak.
In this webinar, Bobby will share his experience and lessons on "strategy". As he shares his view on the meaning and essence of this word, he invites you to reflect and ponder on the ability to make choices, analyze, articulate and follow-through on strategy. Moreover, he will share his journey of how he realized the critical nature of strategic thought not just in business, but in how we live our lives.
About the Speaker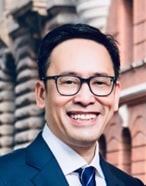 Robert Chris "Bobby" Asprer
China Self Care Transition Leader of Johnson & Johnson
Robert Chris Asprer (Bobby) is currently the China Self Care Transition Leader in Johnson and Johnson. He would be moving on to his next adventure in the next months.
In his current role, he is accountable for driving the next stages of organizational set-up for this stand-alone organization. This includes co-leading development of its Strategic and Operation Plan and driving key strategic partnerships with China's top Health-tech companies.
Bobby has served in the China Johnson & Johnson organization since 2013 in various commercial roles. Prior to this role he was Head of Commercial Strategy and Innovation in Johnson & Johnson for both the Janssen Pharmaceutical business as well as the J&J Consumer Pharmaceutical Self-care business (OTC products). Since joining the China organization, he has collaborated with the R&D, Regulatory, Medical Affairs, Government Affairs, Supply Chain, Commercial teams and External Partners in creating commercial value as well as introducing new assets and life cycle indications to patients.
Prior to moving to China, Bobby had broad experience in Global and Regional marketing covering multiple categories in Johnson & Johnson. He was also part of a small team that established the AP Johnson & Johnson OTC and Consumer Healthcare franchise. His initial role in Johnson & Johnson was as a commercial lead for the OTC and Oral Care business in the Philippines.. .
Before joining Johnson & Johnson, Bobby worked in various positions in Sales, Marketing and Training in Pfizer and Wyeth. His experience covers Prescription Products, Medical Device, OTC and FMCG products.
He has won accolades within the companies he has worked with as well as external industry bodies and government organization with the work he and his team have produced.. Numerous James Burke Awards in Johnson and Johnson as well as "China' Outstanding Marketing Award by The Economic Observer" are a few examples.
As a people leader, he has mentored and promoted a number of talents in the industry and advocated diversity in the organization.
Webinar Host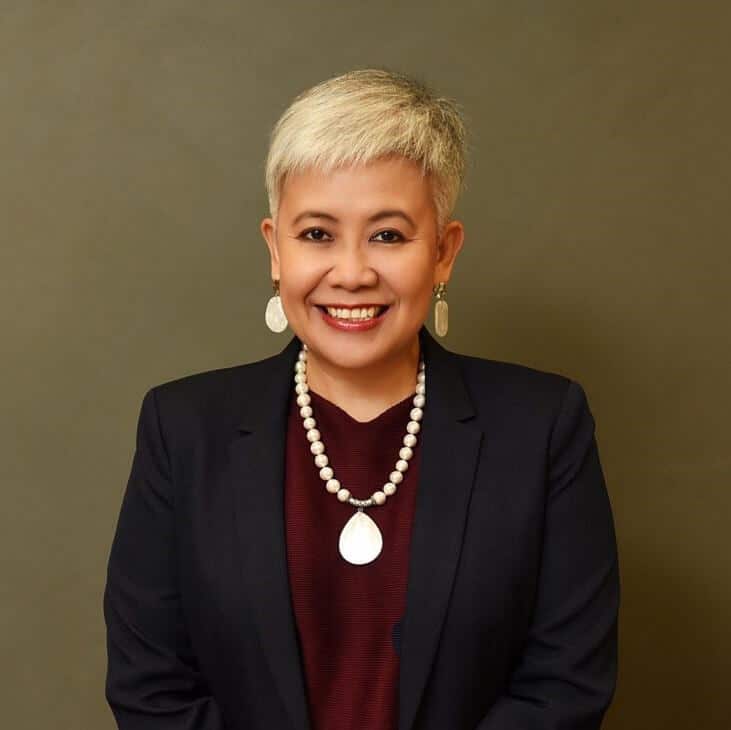 Executive coach, Trainer and Managing Director of POWERinU Tranining & Coaching LLP (Singapore)