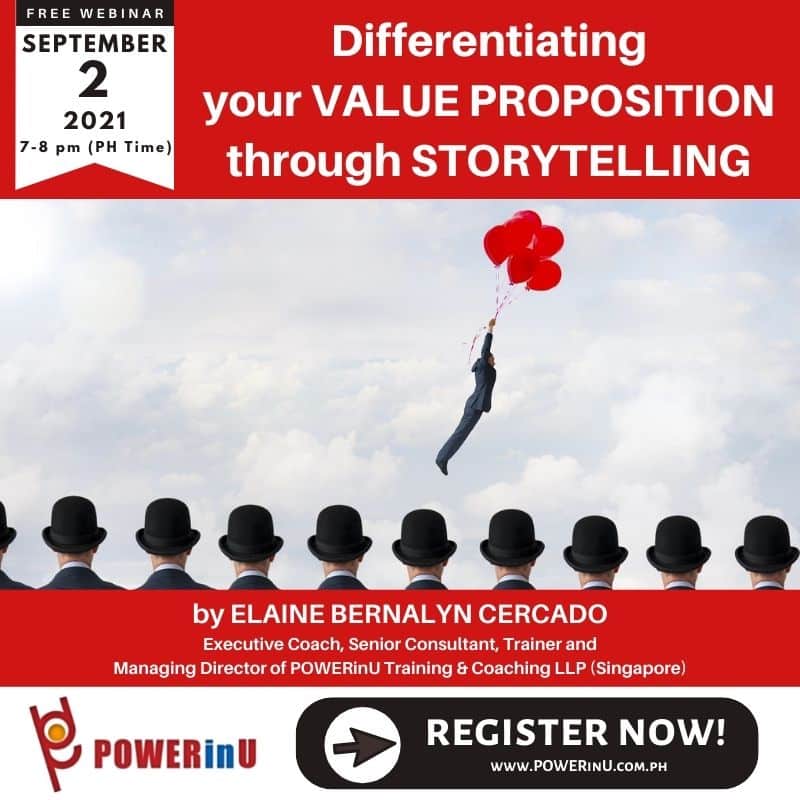 Differentiating your VALUE PROPOSITION through STORYTELLING (FREE WEBINAR)
September 2, 2021
7:00 pm – 8:00 pm (PH Time)
About the Webinar
A timeless and proven effective business strategy is to create and deliver powerful value propositions. The same can be said for your own personal brand.
How do you do that in a noisy world where everyone and everything is talking, information is thrown at you and decisions are pulled out of, or pushed to you, 24/7?
How do you create a message that is true, authentic, relatable?
How do you make your message stand out, be remembered, and ultimately produce action to your favor?
In this webinar, Elaine Cercado, POWERinU Singapore Managing Director, will share how to create and deliver a value proposition, and differentiate it through the power of storytelling.
She will also interview Teresa Guanzon-Hayward, an executive coach and mentor, a facilitator for authentic and effective communication, a specialist in organizational and personal branding. Teresa will draw from her 30 years of practice in Singapore, Malaysia, and the Philippines in the fields of corporate and marketing communication, public relations, executive education, and in journalism and broadcasting.
Whether you want to differentiate your personal and professional value proposition, or your organizational and business value proposition, you may learn and benefit from a refreshed framework, a tailored strategy, a powerful tool and a success story.
About the Speaker
Executive Coach, Senior Consultant, Trainer and Managing Director of POWERinU Training & Coaching LLP (Singapore)
Discover, Develop, Maximize and Share the Power Within! ~ This is Elaine's mission and passion for every person, team and company.
Elaine has over 30 years of professional history, which includes working with diverse teams, from the fast growing small & medium-sized businesses to complex multinational corporations and global non-profit organizations, in varied emerging and mature industries in Asia-Pacific markets. Throughout her corporate stints, she specialized in sales, business development, regional general management, learning & organizational development, leadership training and coaching.
In 2008, Elaine built POWERinU Training & Coaching LLP in Singapore, where she is based for 21 years now, which focused on management & leadership training, strategic consulting, executive mentoring & coaching. In 2015, she became co-founder and director of POWERinU in the Philippines.
As POWERinU founder, Elaine designed, developed and delivered management and leadership approach & programs called Taking Care of Business (TCOB); multi-phased strategic selling skills programs called B.E.S.T. (Building Excellent Sales Teams); and personal development & leadership workshops and coaching-mentoring programs called EMPOWER. All of these have benefited over 10,000 corporate leaders, business owners and individual contributors all over Asia-Pacific.
Elaine holds a Bachelor of Science degree in Applied Economics, a Master in Business Administration, and Advanced Certification in Training and Assessment (ACTA) by Singapore WDA/IAL. She is a certified Practicing Management Consultant (PMC) of the Singapore Business Advisors and Consultants Council, and has Certified Agile Leadership1 (CAL1) by Scrum Alliance. Elaine has achieved Coaching (CEG and CCLF) certifications from Coach U/Corporate Coach U (ICF-accredited). Elaine is also certified by global training provider, CEGOS Group, in Storytelling, Creating & delivering powerful presentations, and various management and leadership courses.
About the Guest Sharer
TERESA GUANZON – HAYWARD
Leadership & Executive Coach, Learning Facilitator, and former Journalist, Newscaster and Host of Public Affairs Programs
Teresa has broad and deep experience in leadership and team development, coaching and mentoring, and corporate and marketing communication honed from years of practice across South East Asia. She has lived and worked for many years in Singapore, Malaysia, and the Philippines and overseen projects in Japan, Thailand, Vietnam, India, Australia.
Teresa has worn the hats of vendor, client, consultant, interviewer and interviewee, leader, team player, coach, mentor and mentee at various times in her long and interesting career; often switching hats in a heartbeat. Having restarted her career multiple times, she can empathize with disruption, change, culture, and context. She is a big believer of lifelong learning and crucial conversations.
---
We do not give certificates to our free publicly-offered webinars.
However, if you need proof of webinar attendance, we suggest forwarding to your organization or school a copy of the post-webinar email we send only to those who registered.
The recording of our free webinars are also uploaded in POWERinU's YouTube channel for everyone to watch again so feel free to subscribe so you can be updated whenever we have new uploads.