If you are a leader in a company where one-third of star employees feel disengaged and are already looking for new jobs, what will you do?
If you wish to have a more engaging leadership development, would you go beyond formal learning, and if so, which informal learning will you drive?
According to CEB's research (1), one-third of star employees feel disengaged and are already looking for new jobs. The research also showed that effective leadership development is driven 93% by manager coaching. Connecting these two key points, you may then conclude that as a leader, you have to be an effective coach for your employees to engage and retain them.
Last 15th to 16th August 2017, that's what we aimed to achieve with the managers and leaders who participated in the first public workshop of The Coaching Clinic® organised by POWERinU. We equipped the participants with coaching techniques they can use in their work relationships, and thus, gain the advantages of bringing a coach approach to managing people.
Licensed facilitators Eduardo Reyes, Dick Cercado and Elaine Cercado ran the program for 13 managers and leaders from various organisations including ON Semi, Carestream, Pepsi-Cola, Focus Inc., E-Science, and IdeaSpace.
The Coaching Clinic® provides a coaching toolkit of knowledge, techniques and practiced skills that the participating managers and leaders can apply competently and confidently in their work situations to gain immediate benefits. Effectively applying these skills spurs rapid development of individuals and teams, and fosters leadership potential.
How does the 2-day program look like?
DAY 1 focus included

Being a Coach – A Model of Trust and Creating a Coaching Environment, Personal Paradigm Shifts
The Five-Step Process of Coaching in the Workplace – The Coaching Conversation Model
Coaching Skills – Contextual Listening, Discovery Questioning

DAY 2 focus included

Coaching Skills- Messaging, Acknowledging
Personal Coaching Styles Inventory (PCSI) – Defining Your Personal Style & Recognizing The Styles of Others
Coaching in Organizations – Creating a Powerful Definition of Coaching, Coaching to Commitment, Challenges to Coaching
Creating an Action Plan to Implement Coaching, Follow-Up & Peer Coaching
The approach is based on the gold standard in corporate coaching, The Coaching Clinic® program, developed by Corporate Coach U (from USA), which uses proven coaching process and techniques, and then applied throughout the 2 days via triad and dyad coaching practices. Last August, after at least 10 rounds of coaching sessions, all the participants said they felt they were ready and confident to practice in their respective real-world day-to-day situations.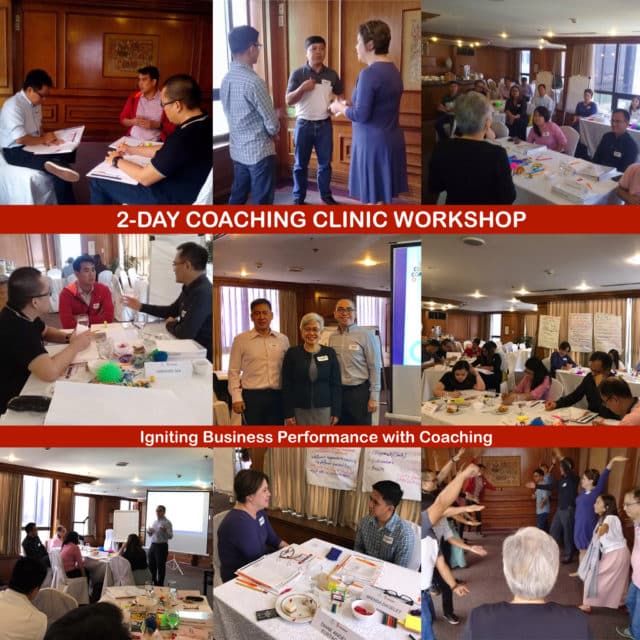 Feedbacks from Participants
What will successful application of the Coaching Clinic learnings and skills look like?
"More projects will be completed on time and team will be more engaged and feel empowered. Team will be reporting results and will not be asking what to do."
"A level-up'd trust with each member of the group"
"KPIs are met. Better aligned to results – both managers and staff"
"More engagement with direct reports…More sense of accountability from team members."
"Success will be when my coachees go beyond our mutually agreed actions…It will mean they are motivated to be better versions of themselves."
"Able to revive / build a coaching culture in my new organization. Have less threatening work environment and higher engagement. Have managers' support and involvement in developing people."
Over-all, how was the program and/or your experience?
"The course allowed me to understand better the value of coaching. The pacing, materials, exercises and the course itself are all well prepared. The facilitators are well-equipped and very knowledgeable on the course content."
"The course content is great as well as the materials! The trainers are well very accommodating and willing to share."
"Good facilitators, very open/approachable, easy to talk and relate with. Pacing was just right and matched my learning speed. Fun exercises."
"I find it useful and refreshing. It provides a structured approach on how to conduct coaching through numerous exercises. The venue is conducive to learning."
"I really enjoyed the training…It's great!!!? Content is easy to understand, very relevant and interesting. I like the materials – world class! Exrcises allowed us to practice and get to know and learn from each other."
"The facilitators are subject matter experts. The exercises/practices help us appreciate the lessons ."
If you would like to know more about how you may build a coaching culture within your teams and organizations through The Coaching Clinic® program, and successfully achieve business results through the development and practice of coaching skills, connect with us at emails [email protected] (for Philippines office) and [email protected] (for Singapore office), or send us a note through our website.
---
Reference:
(1) CEB Developing Senior Leaders Who Build The Next Generation of Talent