By Elaine Cercado
What keeps you going at work, and in life? What wakes you up in the morning and gives you the energy throughout the day or week or year? When you get off-track – face a challenge or obstacle – what puts you back on-track? To answer these questions, you would need to answer an important question first – What is your purpose in life? The father of Pi Patel, from the book Life of Pi said, "How can he find his way if he doesn't choose a path?" referring to Pi's pursuit of three religions. Indeed, believing in everything is like believing in nothing.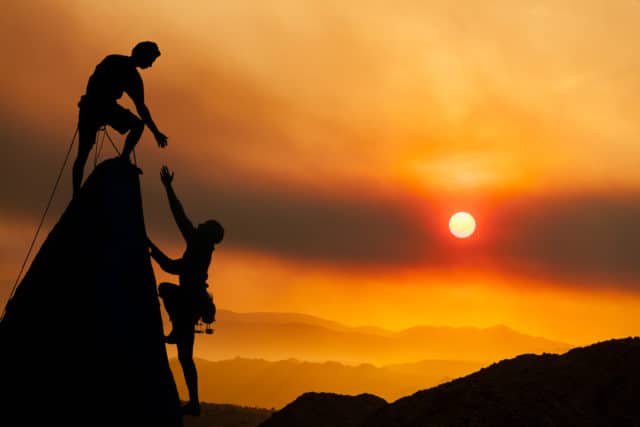 First things first: discover your purpose!
Way back in my late 20's to early 30's, I took the arduous process of discovering my purpose by defining my personal mission and vision. I was blessed to have a colleague who gave me The Path book by Laurie Beth-Jones, which became my starting point and process for defining my mission and vision.
After several iterations over the years, my mission statement ended like this: To bring out the power in every person – within my family, workplace, community and society. Powers from within include gifts, talents, strengths and values. With this mission, I committed to help every person discover, learn, maximize and share with others their powers. With the fulfillment of this mission, I envisioned that: Every person has maximized his/her powers, and is living an enriched life. An enriched person demonstrates a strong sense of purpose, and is full of confidence, passion & joy!
My mission and vision was re-affirmed when I faced a crossroad in my life. In January 2008, I left the corporate world after working non-stop for 20 years. Sixteen out of those 20 years were spent working with one global company that gave me many opportunities – career growth and achievements, international assignments, brilliant bosses and mentors, financial gains, challenging projects, recognitions, among others – that enriched me as a person. Those 20 years developed, tested, refined and led me to become the person I envisioned to be.
I established de'POWERinU in March 2008 and formalized my shift into the training, consulting and mentoring-coaching fields. The shift became easy with doors and windows opening one after the other. I really felt God opened and blessed a new path for me, as I believed in my heart that I was pursuing my passion and mission.
Then challenges started – some goals and expectations were not met, projects and partnerships did not materialize as planned, feelings of inadequacy and doubts set in, the certainty of the mission and vision became questionable. I've had many moments of reflections, of re-discovery and of re-committing to the path forward. Those invaluable learnings through the journey reinforced what Robert Frost has said, "the way out is always through." I had to go through the ups and downs, the successes and failures, and they have made the journey more meaningful. As Pi has said in the book Life of Pi, "You will not know the strength of your faith until it's tested."
Success is not measured by financial gains – but by living your purpose faithfully.
When you pursue a passion and mission, it's never about the financial gains. If it happens, it's a bonus. The measure – if you have to measure – would be the fulfillment of the mission itself. Am I living my purpose faithfully? Is it bringing out the best in me? Am I inspired to always give my best – no matter what? Is it inspiring to others and bringing out the best in others too?
Harry Truman, the 33rd president of USA, has said, "It is amazing what you can accomplish if you do not care who gets the credit." When I just focused on mentoring or coaching someone to face a life challenge, when I dedicated myself to learning a new subject matter to teach and enable someone, and when I shared my time beyond what was required to help a team achieve an organizational goal – those were the times I gained most. The gains were not necessarily financial, in fact, the incremental financial rewards, if any, would usually be minimal. The gains were usually what I'd call "joys in my heart". They were intangible and hard to measure, yet very motivating and sustaining.
Serving others keep you on your path.
Living my purpose requires sacrifices. When I left the corporate world, I remember one of my team members told me, "from now on, you will have all the time to smell the roses." After five years of treading my own path, I can honestly say that time has never been enough and that it hasn't been all a bed of roses. In fact, living out my purpose continuously requires a lot of work, time, patience, discipline and selfless acts.
Bringing out the power in each person through mentoring, coaching, consulting, training, or through my roles as a mother, wife and community servant has not been easy. From fulfilling my own ambition, my focus shifted to fulfilling somebody else's ambition. From commanding and doing all the talking, I shifted to learning and listening most of the time. From buying all the things I wanted, I streamlined and simplified my lifestyle. The list of changes was long. But amidst all these, I felt peace and joy in my heart, which motivated and sustained me.
If you wish to keep growing, your diligence should never end!
Whenever a project would not materialize, or the funds would not be enough, or an expected outcome would not happen, or tiredness and anxiety would set in, I would ask myself – should I go back to working as an employee in the corporate world? Should I just stop de'POWERinU and pursue something else? I have even gone to the extent of trying out these options. But the vision of an empowered and enriched person or team – demonstrated by having passion, confidence and joy – has kept me going in my path.
I read a recent social media posting of Francis Kong about "growing where we are." Someone asked, "Where do we thrive and grow most? Where does diligence end?" Francis replied, "We know we thrive when we can see the fruit of our labor being a blessing to others and ourselves. Diligence 'wherever we are' never ends but the humility to face reality and to ask counsel from those who have been there before us should be present."
I'm happy to see some of the fruits of my labor – being blessed and being a blessing. I'm happy to read and hear feedback from others about how I've impacted their lives. I know I will continue to experience successes, as well as, failures in the path I have chosen. One thing is certain, I will keep going to live and fulfill my purpose. I agree with Francis when he said, "Diligence never ends."