Mynt, is a partnership between Globe Telecom, the Ayala Corporation, and Ant Financial, that provides innovative and first-in-world fintech solutions to consumers, merchants, and organizations. Its vision is to enable financial access for consumers and merchants by disrupting traditional channels through digital financial technology services. It operates two fintech companies: GCash, a micropayment service that transforms the mobile phone into a virtual wallet for secure, fast, and convenient money transfer, and Fuse, a tech-based lending company that enables Filipinos to get microloans to business loans without the traditional requirements set by banks and other lending institutions. Being at the forefront of digital payment solutions, Mynt's Senior Leadership wanted to further equip, refresh and update the strategic and consultative selling skills of their Micro Small & Medium Enterprises (MSME) and Sari-Sari Store (SSS) Sales Teams and so they partnered with POWERinU Training and Coaching Philippines, Inc. so their sales teams can undergo the B.E.S.T. (Building Excellent Sales Team) Program.
The framework for the program was based on ATD's (Association for Talent Development) World Class Sales Competency model to ensure that the program:
Reflect the trends that are shaping the sales profession.
Encompass current and emerging sales practices to create a model that is relevant both today and in the next few years.
Be relevant across various job titles in the sales organization and sales enablement functions.
Include the perspectives of sales professionals as well as employers.
Be actionable, easy to navigate, and accurate, so as to be used for a variety of sales talent management efforts, such as recruitment, selection, assessment, and development.
There were two batches of the B.E.S.T. Program delivered to Mynt in September to October 2021. The sessions were designed, developed and customized by POWERinU Director Elaine Cercado, and delivered by both Elaine and Co-Director Jun Marfori.
The participants were highly engaged and pro-active during the sessions.
Jun and Elaine commented, "We are happy when people say that they understand and value the learnings they get from our workshop and time together. But we are even more delighted when people say they will and actually immediately integrate what they have learned in their day-to-day sales processes and habits."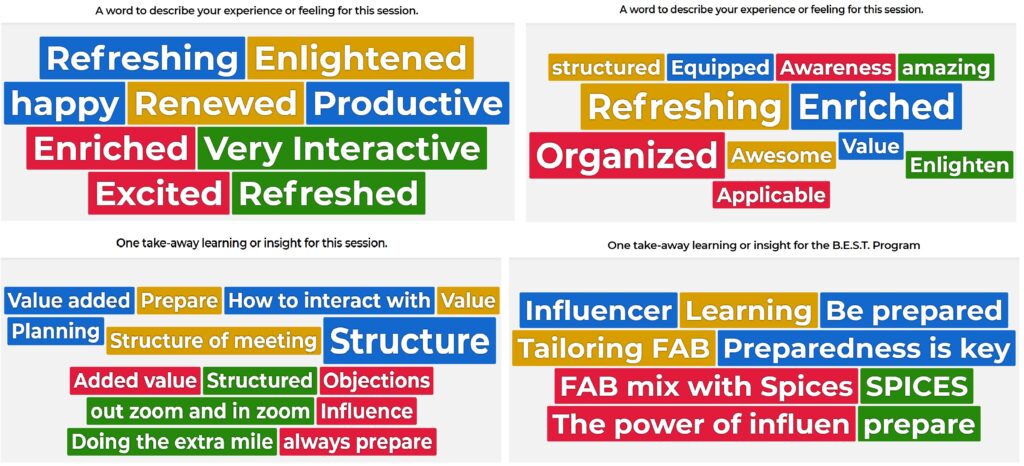 #StrategicSolutionSelling #SalesTraining #Mynt #GCash #POWERinU #TCOB #ConsultativeSellingSkills #BESTProgram #WorldClassSalesCompetencyModel