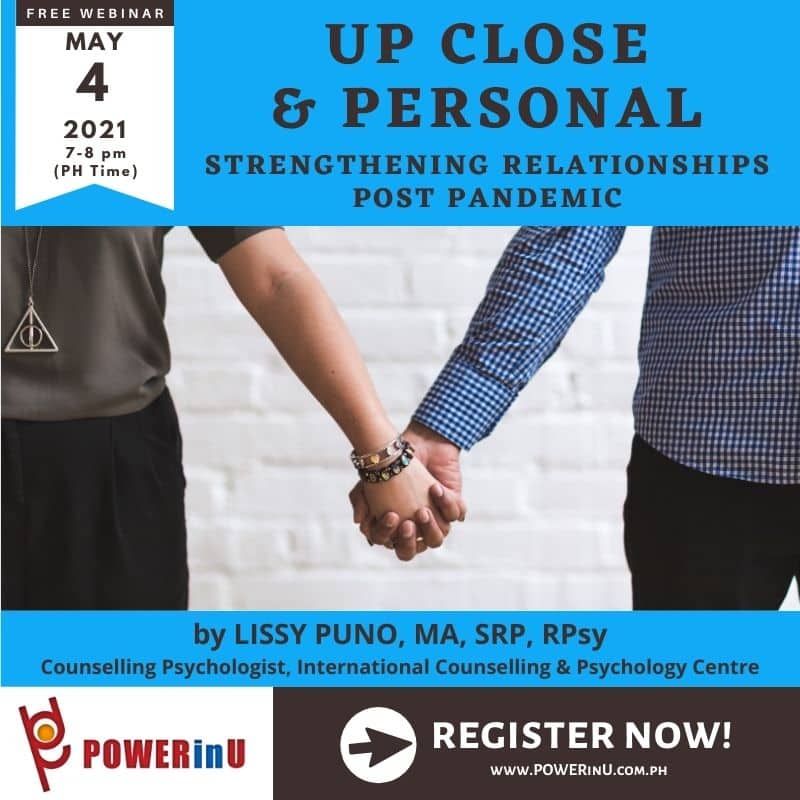 UP CLOSE & PERSONAL: Strengthening Relationships Post Pandemic (FREE WEBINAR)
UP CLOSE & PERSONAL:
Strengthening Relationships Post Pandemic
May 4, 2021
7:00 pm – 8:00 pm (PH Time)
The Covid 19 pandemic or "lockdown" made most people work from home, which inadvertently led to the blurring of lines between personal & professional lives. Studies showed that some people felt overwhelmed, anxious and stressed, which might have led to relationships being tested or strained. Some welcomed the situation and being together with family fed joy, support and positivity to their emotional bank accounts. Can you relate with either one or both of these situations?
The constant time together at home gave couples, family members & loved ones the time & space to have a "better look" at their relationships that they may not have been able to do in the past years.
What did you discover?
What is the state of your relationship at this time?
Does it need more attention, time or effort?
What's a more sustainable way to keep a relationship fulfilling through the years?
You can take control on how your relationships will improve or grow!
JOIN THIS WEBINAR TO…
DISCOVER A RELATIONSHIP VISION that will make your relationships stronger!
DISCOVER INGREDIENTS that can allow you to reconnect with your partner!
Strengthen your relationship goals post pandemic & beyond!
---
About the Speaker
LISSY PUNO, MA, SRP, RPsy
Counselling Psychologist
Lissy Puno is a Singapore-based Filipina, practicing as a Counselling Psychologist at the International Counselling & Psychology Centre. Her extensive experience in mental health has taken her around the region and beyond from the United States, Thailand, Malaysia and now Singapore.
Aside from counselling and Psychotherapy, she is also a speaker and author on various topics such as parenting, marital, family relationships and overall mental wellness. She is a presenter of the workshops "Getting The Love You Want" for couples and "Connected Parents, Thriving Kids" for parents, teachers, and other child caretakers. She is a member of the Keynote Women's Speaker Asia.
She is also an author of the books "Affairs Don't Just Happen" (2016), Stay Connected (2018) and Couple Goals (2019) that promote relationship wellness and skills that strengthen couplehood.
In the recent year, she created a Care & Wellness series of webinars to maintain wellness during the pandemic such as on managing stress, worry and anxiety, being your own emotional coach, balancing the work from home experience and growing your relationship while in lockdown.
---
This is a FREE WEBINAR.
---
We do not give certificates to our free publicly-offered webinars.
However, if you need proof of webinar attendance, we suggest forwarding to your organization or school a copy of the email we send out only to those who registered, 48 hours after the webinar.
The recording of our free webinars are also uploaded in POWERinU's YouTube channel for everyone to watch again so feel free to subscribe so you can be updated whenever we have new uploads.