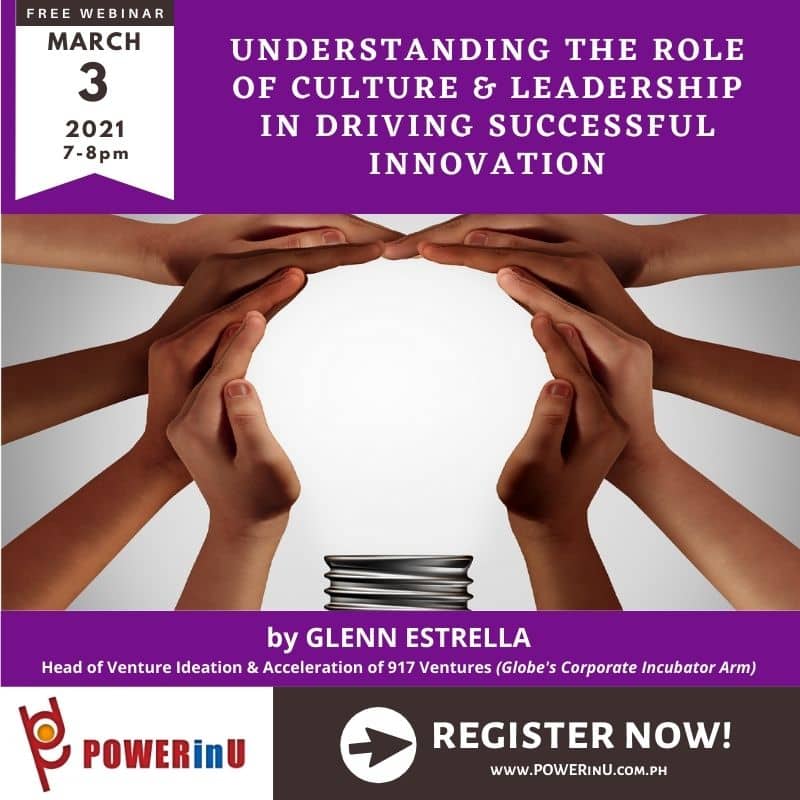 Understanding the Role of Culture and Leadership in Driving Successful Innovation (FREE WEBINAR)
JOB SEARCH: (Re)Starting your Career
February 3, 2020
7 pm – 8 pm (PH Time)
What do counter-steering, apexes, and target fixation have to do with building culture, innovation, and leadership for your business?
Join us as Glenn Estrella shares his experience on the importance of culture in driving innovation.
---
About the Speaker
GLENN Z. ESTRELLA, Head of Venture Ideation & Acceleration of 917 Ventures (Globe's Corporate Incubator Arm)
Glenn is currently the Head of Venture Ideation & Acceleration of 917 Ventures, the corporate incubator arm of Globe that was created last August 2019 and is in charge of creating businesses beyond telco services and is expected to play a critical role in contributing to the company's future growth.
Prior to joining 917 Ventures, Glenn was Senior Vice President for Digital Ventures of Globe Telecom, an innovation & business development group under the Office of the President & CEO. He drove innovations that led to the development of several products and services that are used by Globe and other businesses even until today. He also led a successful exit for Globe with a value of $18M.
Glenn re-joined Globe in 2011 as Vice President for Digital Media, Consumer Business Group of Globe Telecom where he led partnerships with companies such as Google, Facebook, and Spotify to increase adoption of mobile data usage.
Prior to rejoining Globe for the second time in 2011, Glenn has led several start-up ventures in the Philippines with one successful exit and another successful spin-off. Glenn has also successfully led a start-up in Jakarta, Indonesia back in 2006.