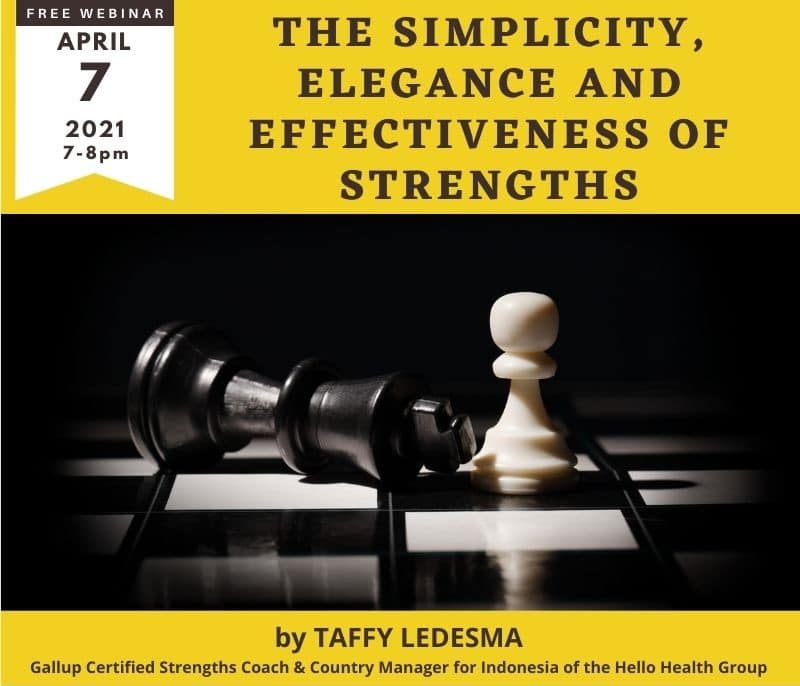 The Simplicity, Elegance and Effectiveness of Strengths (FREE WEBINAR)
The Simplicity, Elegance and Effectiveness of Strengths
April 7, 2021
7:00 pm – 8:00 pm (PH Time)
There is an underrated quality of using Strengths in Development & Management: the power to hold an individual or a team to their strengths in order to deliver on objectives.
Join the webinar to understand how STRENGTHS can be applied successfully in your workplace today.
About the Speaker
TAFFY LEDESMA
Gallup Certified Strengths Coach & Country Manager for Indonesia of the Hello Health Group
Taffy Ledesma has been an advocate of Strength-based Development for 14 years as a manager and also as a coach. He is one of the first Gallup Certified Strengths coaches in the Philippines. Taffy's background, however, was on business, not on HR or L&D. This allows him to see the relevance of strengths from both the perspective of people development and delivery of business results.
Taffy's career started in Marketing and Sales working for Unilever, Mead Johnson, and Johnson & Johnson in various roles in the Southeast Asia region. He then did coaching and consulting for various local and multinational clients. Most recently, he has taken on general management roles serving as Managing Director of DDB Indonesia, a multinational advertising agency, and today he works for the Hello Health Group, a regional Health Tech platform, as Country Manager for Indonesia.