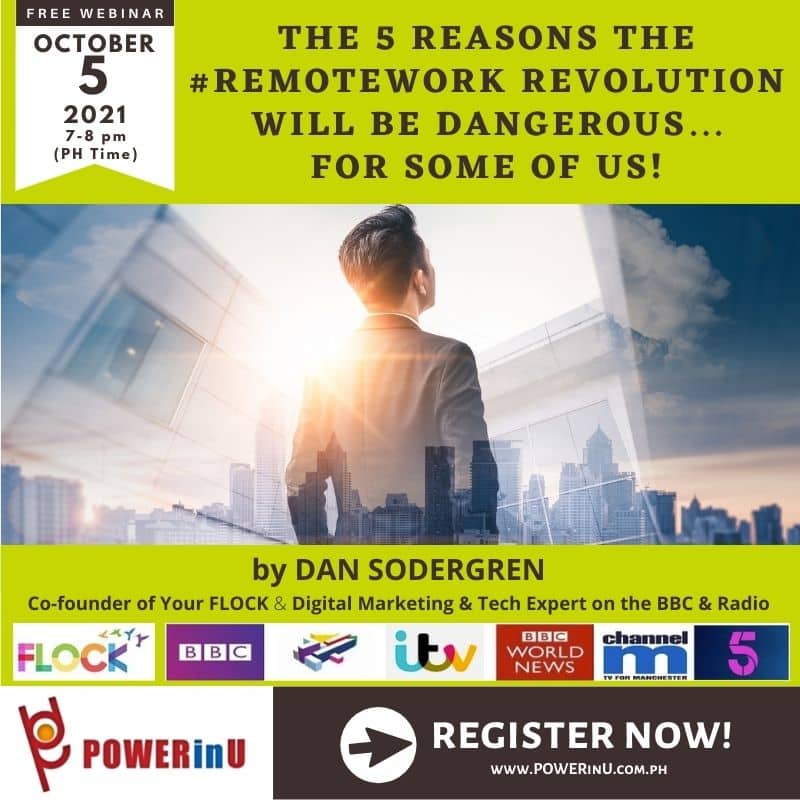 The 5 Reasons the #RemoteWork Revolution will be Dangerous… For Some Of Us! (FREE WEBINAR)
The 5 Reasons the #RemoteWork Revolution will be Dangerous…
For Some Of Us!
October 5, 2021
7:00 pm – 8:00 pm (PH Time)
About the Webinar
Why is the remote work revolution important and upon us?
And more importantly, what can you do to make sure your organization not only survive but thrive in this world of the new normal?
The future of work is going to be more about employee engagement and the creation of a positive company culture, more than ever before.
But are managers, leaders and those they lead really ready for it?
Find out the 5 key things you will have to do to thrive in the next 5 years.
---
About the Speaker
DAN SODERGREN
Co-founder of Your FLOCK & Digital Marketing & Tech Expert on the BBC & Radio
Ex marketing agency owner, digital trainer, keynote speaker, serial tech startup founder and now media spokesperson Dan Sodergren's main area of interest is the #futureofwork, the #remotework revolution and #data and #tech startups. He is currently co-founder of www.YourFLOCK.co.uk with Michal Wisniewski.
In his spare time, Dan is a digital marketing and technology expert for the BBC. Donning the cape of consumer champion on shows like BBC Watch Dog, the One Show and RipOffBritain, and marketing tech specialist for SuperShoppers and RealFakeAndUnknown. His favourite would be reviewing the newspapers from a tech POV for BBC Breakfast.
Dan is also a host and guest on podcasts and webinars speaking as a futurist, as well as being a guest on countless radio shows.
He volunteers as the diversity and inclusion head for the Manchester Publicity Association to change opportunities for underrepresented groups in the creative, digital and tech industries in Greater Manchester.
His main interest is in the future, be it the future of marketing, or the future or work, or how technology will change the world for the better under the #Tech4Good and #Tech4All movement.
---
We do not give certificates to our free publicly-offered webinars.
However, if you need proof of webinar attendance, we suggest forwarding to your organization or school a copy of the post-webinar email we send only to those who registered.
The recording of our free webinars are also uploaded in POWERinU's YouTube channel for everyone to watch again so feel free to subscribe so you can be updated whenever we have new uploads.