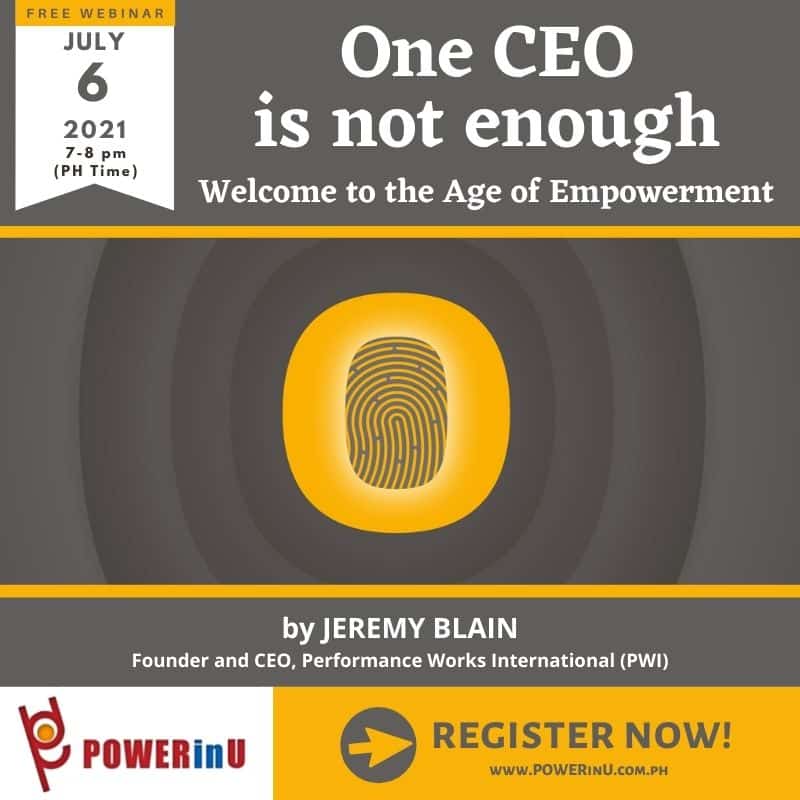 One CEO is Not Enough: Welcome to the Age of Empowerment (FREE WEBINAR)
One CEO is Not Enough:
Welcome to the Age of Empowerment
July 6, 2021
7:00 pm – 8:00 pm (PH Time)
Join the webinar and learn how you can encourage your people to step up and feel they can contribute beyond their job description, regardless of their level!
Jeremy Blain, Founder & CEO of PerformanceWorks International, will give us a run-through of his recently launched book, 'The Inner CEO: Unleashing Leaders at All Levels' which provides a blueprint for how to empower and encourage the broader workforce.
The book does two key things – one, it lays out the required conditions at organisational and executive leadership level to set this up for success and two, it supports those individuals stepping up as in-role CEOs to make a success of it. The book is packed full of advice and models to help you rapidly get to the 'how-to', as well as interviews with experts and companies enabling this already. Jeremy will discuss this in more detail, building the context and need and move into the all important how-to, supported by examples of those companies getting it right.
---
About the Speaker
JEREMY BLAIN
Founder & CEO of PerformanceWorks International
Jeremy is the Chief executive of PerformanceWorks International (PWI), a company that helps organizations, executive boards, leaders and teams succeed in the digital climate amidst disruption, opportunity and uncertainty. Jeremy combines leadership know-how as an international CEO and executive board officer in the UK and Asia with his experience as a learning and human capital professional of over 20 years.
Jeremy Commands extensive experience as a transformation leader and adviser at the board-level globally. He has operated on an international basis to launch successful businesses and to turn underperformance into excellence. This has included a 7-year as CEO for an international consultancy company based in Singapore, operating from India to the Pacific.
Jeremy is a regular media commentator and has received coverage in numerous high profile publications including Forbes, CEO Today, Dialogue by DUKE CE, BusinessMatters, HRM, HR Online, and more.
Jeremy holds a BA(hons.) from Sheffield University, UK; and a Masters of Management in International Business (MMgt) from the Australian Institute of Business, Adelaide, Australia; and is a Fellow of the Institute of Directors in London, U.K. (FIoD) .
---
This is a FREE WEBINAR.
---
We do not give certificates to our free publicly-offered webinars.
However, if you need proof of webinar attendance, we suggest forwarding to your organization or school a copy of the post-webinar email we send only to those who registered.
The recording of our free webinars are also uploaded in POWERinU's YouTube channel for everyone to watch again so feel free to subscribe so you can be updated whenever we have new uploads.