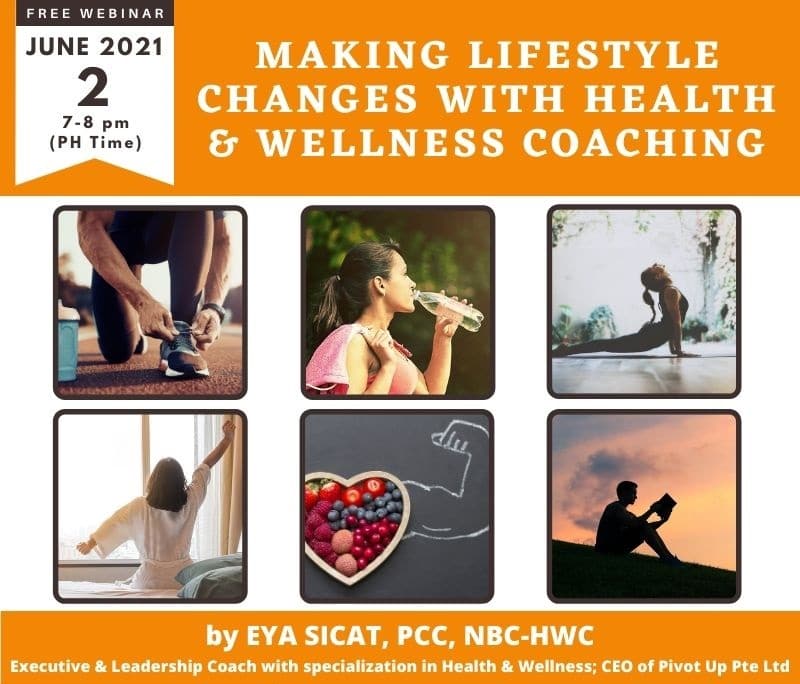 Making Lifestyle Changes with Health and Wellness Coaching (FREE WEBINAR)
Making Lifestyle Changes with Health and Wellness Coaching
June 2, 2021
7:00 pm – 8:00 pm (PH Time)
About the Webinar
Do you have a chronic health condition? Would you like to reduce your risk of developing one in the future?
Do you want to feel better overall?
Are you looking for ways to SUSTAIN HEALTHY HIGH PERFORMANCE?
We all have the power to prevent, reverse chronic illness or be healthier overall just by adopting healthier habits. And as simple as that sounds, we know that change is anything but easy. We need to have the drive, motivation, right strategy and support to change our habits – especially if we have been doing things a certain way for a very long time.
Health Coaches are change agents. They help people with very client-centred behaviour change.
Join this webinar to learn more about Health Coaching.
---
About the Speaker
Eya Sicat, PCC, NBC-HWC
Executive & Leadership Coach with specialization in Health & Wellness
CEO of Pivot Up Pte Ltd
Eya Sicat is a Business Executive, Coach, Wife, Mother and Daughter. She inhabits these roles without hierarchy because she knows that in real life, at any given time, one of them could be very significant, or a couple of roles could intersect and demand much attention.
Eya's calling as coach happened when she needed a coach as a business executive leading multi-cultural global teams. She is passionate about nurturing a healthy balance between well-being and high performance to genuinely achieve and be more. She embraces the significance of a healthy mind and body as a life philosophy and an opportunity to provide helpful coaching to executives needing to resolve work and health uncertainties.
As a successful business executive of more than 25 years in large global companies (Unilever, Mead Johnson Nutrition, American Express and Royal DSM), Eya knows that we learn leadership from a place of grit to meet tough challenges.
Eya has a bachelor's degree in Molecular Biology and Biotechnology from the University of the Philippines and certified in Columbia Business School's Strategic Consulting program. She is taking graduate studies in Human Nutrition at Deakin University and Psychology at Monash University. Eya is a graduate of several certificate programs, including Health Coaching (The Coach Partnership), Tension Release Exercises (TRE), and Somatic Coaching (Strozzi Institute). She is also taking courses in Cancer Journey Coaching (USA) and Mindfulness (Netherlands).
She was CEO of Newfield Asia (a leading ontological coaching training school, now known as The Coach Partnership) and served in the International Coaching Federation (ICF) Executive Committee of Singapore. She is an ICF Credentialed and USA National Board Certified Executive and Leadership Coach specializing in Health and Wellness.
---
THIS IS A FREE WEBINAR!
---
We do not give certificates to our free publicly-offered webinars.
However, if you need proof of webinar attendance, we suggest forwarding to your organization or school a copy of the post-webinar email we send only to those who registered.
The recording of our free webinars are also uploaded in POWERinU's YouTube channel for everyone to watch again so feel free to subscribe so you can be updated whenever we have new uploads.