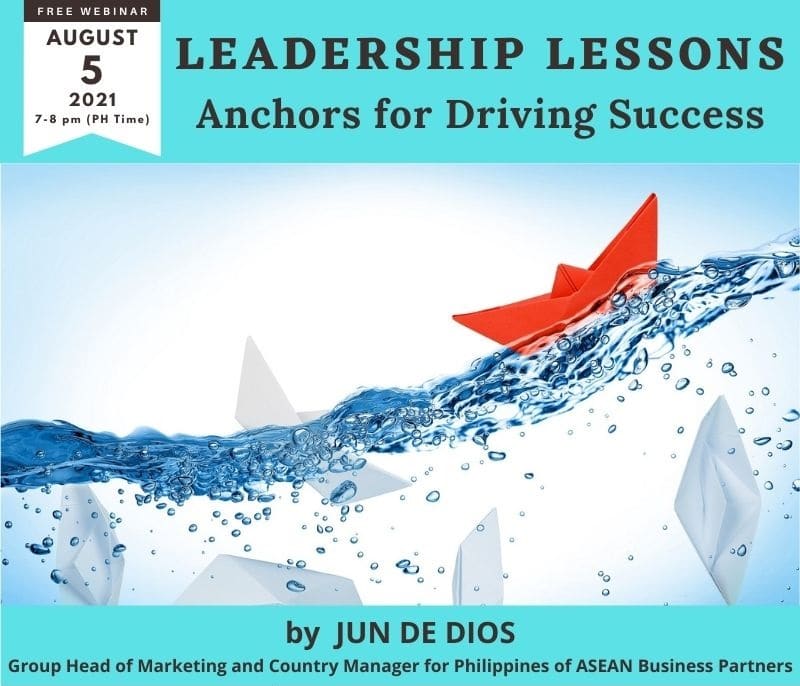 LEADERSHIP LESSONS – Anchors for Driving Success (FREE WEBINAR)
LEADERSHIP LESSONS – Anchors for Driving Success
August 5, 2021
7:00 pm – 8:00 pm (PH Time)
About the Webinar
With more than 30 years of working for multinational companies across several markets in Asia, Jun De Dios will share about some of his leadership lessons for success which he has discovered through personal experience across multiple cultures and organizational levels. His insights will cut across three dimensions of where you can drive success – your self, your team, and your organization.
---
About the Speaker
JUN DE DIOS
Group Head of Marketing and Country Manager for Philippines of ASEAN Business Partners
Jun de Dios is the Group Head of Marketing of ASEAN Business Partners and doubles up as the Country Manager for the Philippines. Jun was the CEO for AkzoNobel in Vietnam from 2008-13, and then CEO in Indonesia, before being appointed Cluster Leader for Indonesia, Malaysia, Thailand, Philippines, PNG, AUS and NZ, Pacific Islands over the period 2016-2019.
Jun has extensive experience in Asia across a range of industries and companies. He began his career with P&G Philippines as a Sales Section Manager in 1986. After a successful 8-year stint with P&G, Jun moved to Mead Johnson Nutritionals as Sales Director and then Marketing Director in 1998.
By 2000 Jun was appointed General Manager in Mead Johnson Malaysia/Singapore/Brunei, a role he held across many of the company's key markets in Asia (Thailand, Vietnam, Indochina). Jun then joined the Dutch Mill Group of Companies as Managing Director for ASEAN where he expanded the drinking yoghurt business of Dutch Mill in Malaysia, Singapore and Vietnam, while opening up Indonesia and the Philippines. He then moved to AkzoNobel in 2008.
Jun is a single handicap golfer and he continues to expand his interests for technology and creative writing.
---
This is a FREE WEBINAR.
---
We do not give certificates to our free publicly-offered webinars.
However, if you need proof of webinar attendance, we suggest forwarding to your organization or school a copy of the post-webinar email we send only to those who registered.
The recording of our free webinars are also uploaded in POWERinU's YouTube channel for everyone to watch again so feel free to subscribe so you can be updated whenever we have new uploads.