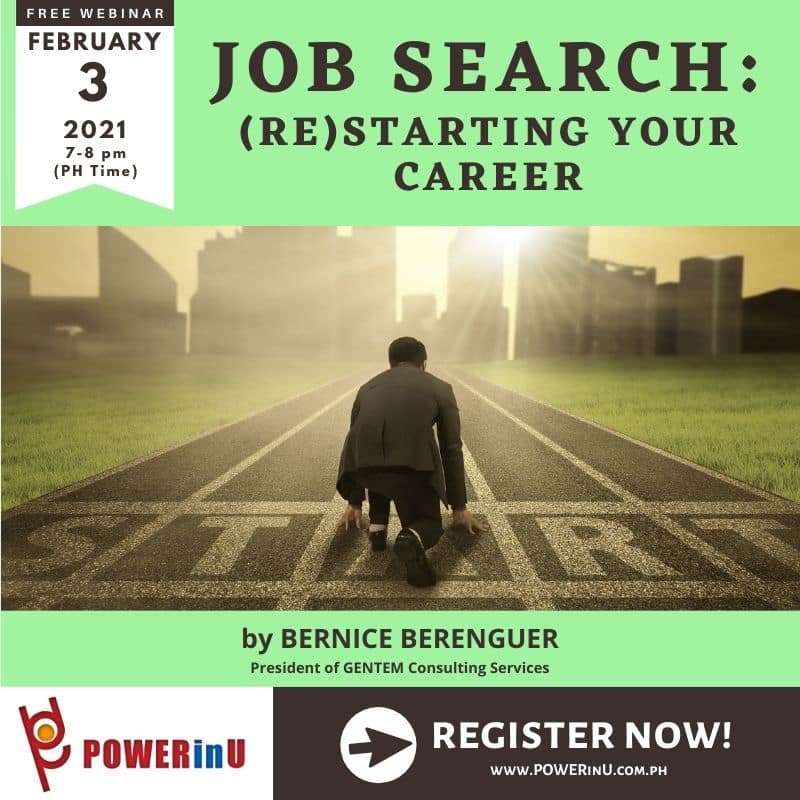 JOB SEARCH: (Re)Starting your Career (FREE WEBINAR)
JOB SEARCH: (Re)Starting your Career
February 3, 2020
7 pm – 8 pm (PH Time)
About the Webinar
Are you looking for a job right now?
Whether you are looking for work for the first time or hoping to switch careers or jobs, the pandemic has made this pursuit more challenging and frustrating. You might probably be getting plenty of advice from friends, colleagues and experts on social media, on how and where to apply.
The problem is that even well-intentioned insights can be less than helpful if they don't apply to your current situation or goals
If this is your situation right now, take heart and tune out the noise. By going back to basics, you can get your job search back on track.
Join us in the webinar and explore simple steps to finding your dream job!
---
About the Webinar
BERNICE BERENGUER, President of Gentem Consulting Services
Bernice has around 25 years of recruitment and HR experience. A recruitment veteran of leading local and multinational private companies and executive search firms, she has identified candidates for a wide range of categories from skilled workers to middle- and senior-managers and C-Level positions for various industries and across multiple disciplines. This experience has led her to build her own recruitment company, Gentem Consulting Services where they offer talent search and career coaching services.