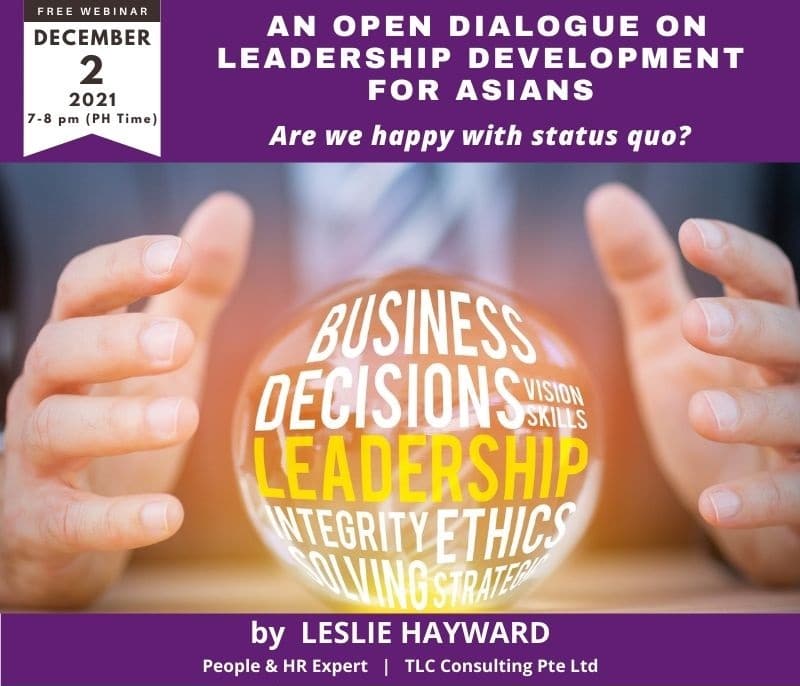 AN OPEN DIALOGUE ON LEADERSHIP DEVELOPMENT FOR ASIANS – Are we happy with status quo? (FREE WEBINAR)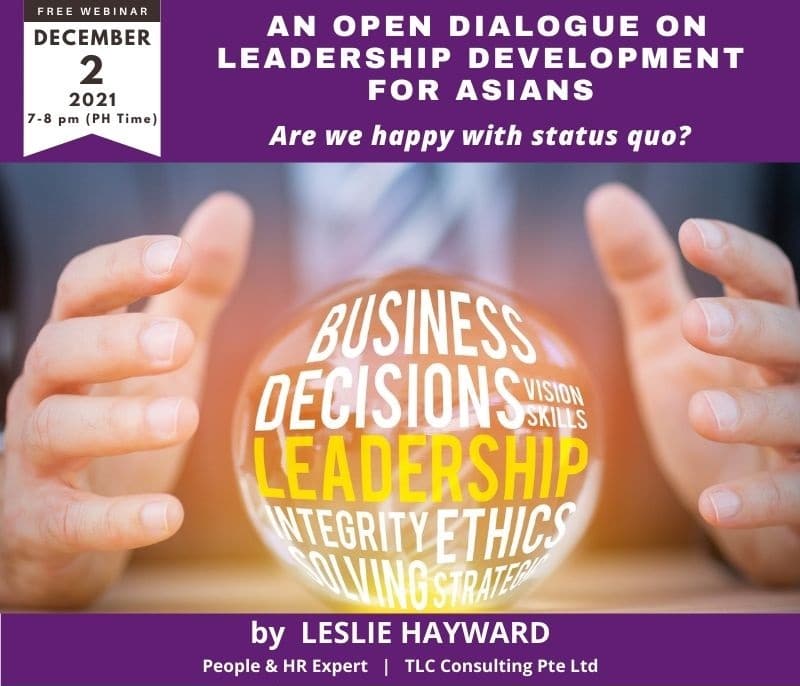 AN OPEN DIALOGUE ON LEADERSHIP DEVELOPMENT FOR ASIANS
Are we happy with status quo?
December 2, 2021
7:00 pm – 8:00 pm (PH Time)
This is a FREE WEBINAR.
About the Webinar
Today, in Asia – this is our space and opportunity to make an impact on what we can offer as Asian Leaders. In the global space, we bring unique & diverse perspectives – Are organisations doing enough to leverage these perspectives & continuously develop their Asian Talents to be credible Leaders?
Join the webinar as the speaker will share his insights and experiences based on the Royal Dutch Shell's Asian Talent Acceleration Journey where he was the VP HR North East & South East Asia until October 2020.
About the Speaker
LESLIE HAYWARD
People & HR Expert, TLC Consulting Pte Ltd
Leslie Hayward worked across all of Royal Dutch Shell's key businesses over his 30 plus years with the company – Upstream Exploration & Production, Downstream Marketing & Trading and Projects & Technology, in Malaysia, The Netherlands and Singapore. His last position was VP HR South East & North East Asia based in Singapore.
While in Shell, Leslie balanced the Company's organizational objectives with his personal and his team's purpose, championed the Asian agenda and Asian leadership, navigated the complex world of both eastern and western cultures and a multigenerational workforce in an ever-changing environment. This gave him extensive experience in driving Business Transformation and the Change Management Programme needed to support various Shell Business' in embracing the Energy Transition (Climate Change) and Digital Transformation (including Future of Work, IR4.0). The transformation of the HR Organization which he was intimately involved with resulted in the modernization of the HR Model, Infrastructure and Leadership that was ready and willing to lead the thinking in conjunction with the Business
During his tenure with Shell, Leslie sat on the Board of Directors of Shell Eastern Petroleum (Pte) Ltd and the Shell Singapore Trustees (Pte) Ltd and served as a member of the Singapore National Employers Federation (SNEF) Industrial Relations' Panel, a member of the Advisory Board of Singapore Management University (SMU) Academy and the Sarawak (Malaysia) Leadership Institute for Civil Service.
Leslie has the unique capability to bring people together; has a keen eye for human dynamics, fairness, and sound judgement; able to see the big picture when things get complex; keeps a sense of humor when others see only despair.
Leslie is a Fellow of the UK Chartered Institute of Personnel and Development (FCIPD) and a co-facilitator of National University of Singapore's Master of Science course on People Strategy and the SHRM-Sasin School of Management Thailand's Global Strategic HR program.
---
This is a FREE WEBINAR.
---
We do not give certificates to our free publicly-offered webinars.
However, if you need proof of webinar attendance, we suggest forwarding to your organization or school a copy of the post-webinar email we send only to those who registered.
The recording of our free webinars are also uploaded in POWERinU's YouTube channel for everyone to watch again so feel free to subscribe so you can be updated whenever we have new uploads.